"I love all my purchases of Lionesse products and I use them faithfully Everyday & do my weekly facial at home. My favorite products are the Black Onyx Thermal Mask & also the sunblock. Adding on, committing to a monthly treatment, improves my main concerns areas. My main concerns were my pigmentation and fine lines. Now, my facial skin pigmentation and fine lines are disappearing tremendously. Most importantly, my skin is healthier, firmer /lifted and seamlessly flawless."

"I've been a Lionesse customer of Wisma Atria branch for almost 3 years. I have sensitive skin and usually afraid to try new products. I usually stick to my regular Japanese brands such as Shiseido & SK II. I've always had pigmentation problem because I did not use sunblock during my younger days. Lionesse products and facial works wonders on my face and my skin are brighter and tighter. Although the price of the products is on the steep side, most importantly is that it is effective! Service is also excellent especially Avi, Sharon & Eli. They make me feel at home each time I visit!"

"My favorite products are the Diamond Cream and Diamond Serum. My main concerns were my wrinkles and age spots. I thought it would be nice to look fresher, healthier, and glowy. After a year of indulging myself with Lionesse products, I now receive more compliments and most importantly, I feel more confident."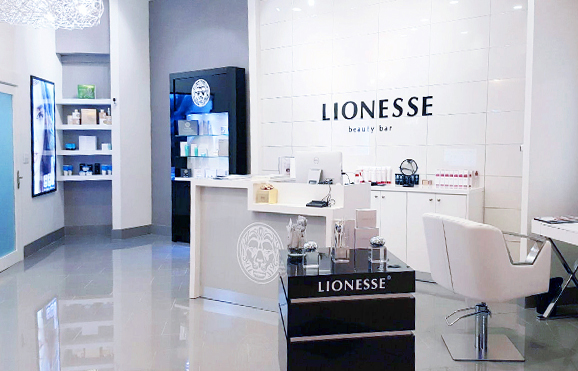 Why We Offer In-Store Only Discounts
We believe that making a first-time luxury skin care purchase is a sensory experience. That is why when you visit a Lionesse store, we invite you to experience our products hands on.  Through scent and application, it is our hope that you will become more informed and confident in your purchase decisions. Our experienced skincare consultants provide additional product education and create personalized regimens designed to reach your unique skincare goals. Once you've had the opportunity to interact with our products, promotional discounts will be offered, unique to each store's limited specials and incentives*. Through these discounts, we hope to build a lasting relationship with each of our customers, gaining brand loyalty and repeat business, both in-store and online.
*Each Lionesse store is independently owned/managed. Discounts may be offered based on local circumstances and promotions however any such promotions for holidays, first time customers or otherwise are offered exclusively by the retail location providing the special offer.
sC88g6JNER
Are there really skincare products out there that can provide both instant and long-term
sC88g6JNER
Cosmetic enhancements and procedures are on the rise. No matter your age, deciding to
nicole rivera
Since September has rolled around it seems like there's a lot of fall chatter.
Subscribe now for product news and giveaways!