Cosmetic enhancements and procedures are on the rise. No matter your age, deciding to have any kind of cosmetic procedure is a big decision. Although fillers, Botox, and other cosmetic enhancements are relatively common and very effective, they can still pose a huge risk to your health. 
If you're trying to choose between cosmetic enhancements or high-end skincare treatments, continue reading to learn why high-end skincare may be more suitable for you.
1) You Prefer a More Natural Look
Most people aim for a natural look when they first have their cosmetic enhancements carried out. However, this isn't always the result. Over time, cosmetic enhancements can start to look overdone and unnatural. You will likely need to opt for more treatments at some point in the future in order to correct this. 
The way in which a cosmetic procedure can change your perception of another part of your body doesn't help either. For example, liposuction to slim down your middle can sometimes make your legs appear much larger, while newly-plumped lips can suddenly make your nose seem bigger too. It doesn't take long to fall into the vicious cycle of "needing" more and more cosmetic enhancements carried out, which is something you will not need to worry about when targeting your issues with quality skincare products. 
https://www.instagram.com/p/Bv9Ukmfl-FE/
2) Personal Reasons & Medical Conditions
Are you afraid of needles? Or maybe you've heard some cosmetic surgery horror stories. Whatever it may be, if something is putting you off, this is a sign that cosmetic enhancements just may not be right for you. Do not force yourself into making a decision that you are not fully comfortable with, especially when your health is involved. 
Certain medical conditions can also mean that cosmetic surgery is not an option. Everything from high blood pressure to diabetes, and even mental health issues, could mean that you are not a suitable candidate for cosmetic procedures, and you would be far safer seeking a non-invasive alternative. 
3) You Are Concerned About Cosmetic Accidents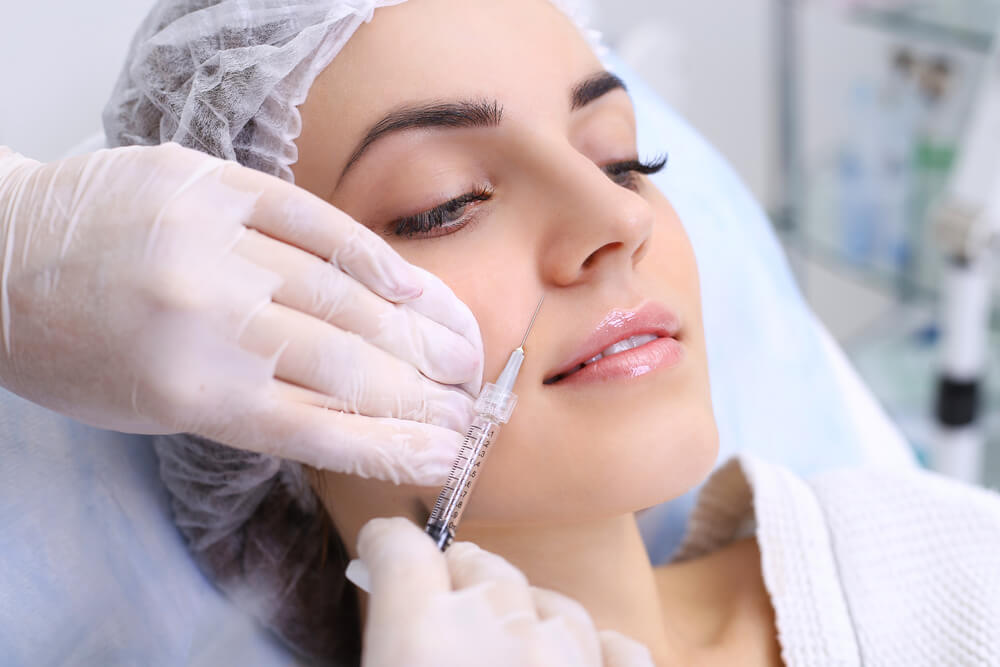 Unfortunately, with any cosmetic procedure comes risk, such as the risk of your surgeon making a mistake. After all, humans make mistakes, and accidents during cosmetic treatments are more common than you would imagine. Sometimes, it's an easy fix, but, other times, it can take weeks, months, or even years to reverse a mistake. For example, if Botox is injected into the wrong area, it can cause another part of your face to droop. In this case, you would have to wait at least 2-3 months for the Botox to fully wear off.
Even when corrective surgery is possible, this is usually painful and expensive. Not only can this be a huge strain on a person's finances, but it can also really interfere with their personal life, causing problems at work, at home and more. 
4) You Are Worried About the Side-Effects
For some, the side effects of cosmetic enhancements may still be worth the procedure. However, most of the side effects that occur are less-than-pleasant. Examples of some side effects include:
Lumps of filler under the skin

Disfigurement, if not administered correctly

Loss of bladder control

Swelling and bruising

Infection

Blood clots

Allergic reactions
The substances used in cosmetic procedures can sometimes result in unwanted allergic reactions. Everyone's body reacts to substances differently, so this is where it gets dangerous…
Developing a severe allergic reaction to a substance being inserted into your skin can be difficult to counteract. A severe allergic reaction that does not get treated in time can lead to anaphylactic shock. 
Some of the side effects that are encountered after cosmetic surgery, from allergic reactions to blood clots, can even be fatal. This is something you will not need to worry about when turning to high-end skincare instead. 
Deciding to get any cosmetic procedure or enhancement is a personal choice. However, your first and safest option should always be high-end skincare. High quality skincare products can reduce the appearance of fine lines and wrinkles while preserving and enhancing the beauty of your natural features. Here at Lionesse, we pride ourselves on creating the finest skincare products using nothing but the highest-quality ingredients. These potent ingredient blends are what enable our products to reduce the appearance of fine lines and wrinkles, while giving the skin a firmer, smoother and more lifted look. 
Here are a couple of our products that can be used as an alternative for people who cannot or do not want to get cosmetic surgery:
1) Amber New Age Syringe
https://www.instagram.com/p/BufGqfBAYnD/
The Amber New Age Syringe is uniquely formulated with Vitamin E, Hyaluronic Acid and Avocado Oil. This advanced and innovative blend immediately reduces the appearance of deep lines and wrinkles, while moisturizing the skin too.
How to Use: 
Cleanse skin

Press the top of the syringe down until product comes out. (P.S. this product

has 2 caps at the end of the syringe that must be removed before you can dispense the product)

Apply a THIN layer DIRECTLY on the wrinkle

If excess product forms, gently remove with a cotton swab
Q&A:
How many times a week should I use this product?
This product is meant for occasional use. However, it can be used as often as once a week.
Does this product produce permanent results?
No, this product does not produce permanent results. However, customers have reported long-term reduction in wrinkles after 8-10 weeks of consistently using this product. Results may vary.
Tips:
It is advised to not apply any cosmetics to your skin after usin

g the syringe.

Is is important to apply a very thin layer of the cream directly on the wrinkle that is being treated. Too much product can cause skin to look white and chalky. If this does occur, apply a small amount of serum on top of the product.
2) White Pearl Facial Peeling
The White Pearl Facial Peeling is intended to exfoliate and give the appearance of a brighter and more radiant skin tone. Exfoliation is key when it comes to keeping the skin smooth, firm and youthful. This product is infused with pearl powder, which is known to illuminate the skin while protecting it from free radical stress.
How to use: 
Cleanse and dry skin

Apply a small amount of product on dry skin

Gently massage in upward, circular motion for 30 seconds

Rinse off the product within 30 seconds of application

Pat skin dry and follow with your favorite moisturizer
Q&A:
The product sometimes feels sticky after application. What can I do to prevent that?
This product should not be left on skin for more than 30 seconds after application. Additionally, when rinsing, only cool water should be used. Not too cold and not too hot. 
How often should this product be used?
For best results, this product can be used once a week.
Tips:
Always rinse off within 30 seconds. Extended use of the product will not improve results.

Always cleanse skin before using peeling product.

Always rinse with cool (never cold or hot) water.

Avoid applying product close to eye area.
The use of the products above can benefit the look of your skin by reducing the appearance of fine lines and wrinkles. With extended and consistent use, you can enjoy effective, long-term results. Be advised that, as with any skin care product, noticeably visible results can take 8-10 weeks to appear. 
Let us know your thoughts about cosmetic enhancements in the comments below!